Admission is open to all students in the Cincinnati Public School District who score in the 70th percentile or above on the Iowa Test standardized test offered through Cincinnati Public Schools. In addition, Cincinnati Public School District students who score at the 65th percentile or above on both components, and have a composite score of 140 or higher on the two combined components, will gain admission. A passing grade will stay with the child for future years - no need to repeat the test. To schedule an appointment call Test Administration at 513-363-0186. Registration for CPS residents is only accepted for those students who qualify and attend WHHS registration on one of the scheduled registration nights as posted in the student section of our website. Registration will not be accepted outside those times.
For families who are moving into the Cincinnati Public School District from out of town or out of the country, please contact the Testing Office at 513-363-0186 for additional information or questions on the testing process.
Registration materials are available in January in the student section of our website and include information about placement testing for language, math and music.
If your child lives outside the CPS district, once they have passed the SCPP exam they are eligible to apply for open enrollment through the CPS website. The open enrollment period for 2020/21 will be during the month of May. Available seats will first be filled by CPS residents and if any are leftover, out of district students will be randomly selected to fill those seats. Call 363-0123 for more information.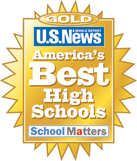 A College Preparatory School - Grades 7 through 12 - Established in 1895
Walnut Hills High School is nationally recognized as one of America's top public schools.
Upon graduation, students are accepted to the finest universities and colleges in America.
Getting Acquainted with Walnut Hills …
Registration for Shadowing opens up on our website October 1st of each year and usually fills within a day. Shadowing is offered to students grades 6-11 who have either passed the SCPP entrance exam or have plans to take it. Testing can be arranged through our district testing office by calling 363-0186. Shadowing is conducted on school days, Monday through Thursday, in the months of November, January and February. The students arrive with their parent between 7:30 and 7:45 a.m. on the confirmed shadow date and the parents stay for a principal meeting that concludes at 8:25. The parents are asked to return at 2:15 to pick up their student. More details about the day and pick up location will be discussed at the principal meeting.
Don't miss our popular Prospective Student Open House, which is usually scheduled the first Sunday in November from 1-4:00 p.m. Be sure to check on our website for more information sometime in October.
Registration for Principal Tours opens up on our website on December 1st of each year. Principal Tours are offered on select Wednesdays in January and February from 1-2:30 p.m. This tour will give you a glimpse of an afternoon in the life of Walnut Hills students. You will see the various highlights of the campus and visit a couple classrooms.
Check out our Fine Arts and Athletic Departments on our website for schedules of events.


An advanced, accelerated curriculum for six grade levels.
A rigorous classical program requiring three years of Latin for incoming 7th and 8th graders.
An Honors Program and College Board Advanced Placement Program with 33 courses.
An outstanding fine arts program with AP art studio and music theory classes.
A culturally and ethnically diverse student body with students from every urban neighborhood in Cincinnati, Amberley Village, Cheviot, Golf Manor, Green Township, and Silverton. (41% minority, 26.5% of student body African American; 2952 student population comprised of 54% females and 46% males.)
A superbly trained faculty with 100% holding master's degrees, equivalent or above. There are nine National Board certified teachers and a former National Teacher of the Year.
An enthusiastic parent organization and alumni organization that volunteer time and contribute funds for program enhancement.
A state-of-the-art thirteen million dollar Arts and Science Center provided by the Alumni Foundation.
Over 94% of our graduates attend four and two-year colleges or universities.
In 2017-2018, 17 National Merit Semi-Finalists and 25 Commended Students.
Seventy-eight Cum Laude Initiates in 2017.
Administered over 2,404 College Board AP exams, taken by 934 students in 2017; 85% of our seniors scored three or higher.
Almost half of our students receive honor diplomas from the state.
Science and foreign language competitions, National Mathematics Examinations, and Harvard Model United Nations.
A minimum of five plays or musicals, 22-25 concerts performed by 19 performing ensembles as well as an award-winning marching band.
Over 90 sports teams and 75 extracurricular activities from Art Club to Youth in Government.
Students scoring significantly above the national mean on the SAT and ACT (WHHS SAT mean 1325; National SAT mean 1060;. WHHS ACT mean 26.4; National mean 21.0).