Hello Future Music Eagle Parents
Is your son or daughter interested in auditioning for one of our music classes. We will need to schedule a virtual audition through Google Meet. Read on to find out how!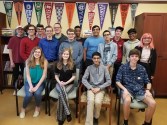 SURSUM AD SUMMUM
"Approximately one-tenth of one percent of students who take the exam nationwide earn a 36."