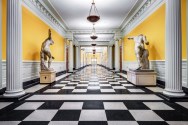 Up and Coming Reunions and Events - 2021
Reunion details, updates, and invitations are communicated by both USPS and emails! We don't want you to miss a detail. If your contact information is not current, please click here to Update Your Information.
2020 - 2021 Reunions and Events If a planning committee is not indicated, please contact the Alumni Foundation to get the ball rolling!
************************************************************************
Class of 1952 October 14 & 15, 2022
Reunion Contact:
Stewart Dunsker, dunsker@outlook.com
Class of 1956 - THE PLANNING HAS DECIDED TO POSTPONE THE 65TH REUNION. THE COMMITTEE WILL BE SENDING A LETTER SHORTLY WITH DETAILS.
Reunion Contacts:
Robert Vitz, rcvitz75@gmail.com
Class of 1960 - Rescheduled – New Date TBD Classmates who registered for the 2020 reunion, your reservation will be held for the new date. However, if you prefer a refund, please email your request to jennyfrenchwhhs@gmail.com.
Reunion Contact: Robert Brown, brownlawohio.com
Class of 1964 Birthday Celebration –Rescheduling to 2022
Reunion Contacts:
Gail Stern, gailstern@comcast.net
Sally Fox Korkin, sallyk916@gmail.com
Class of 1971 - June 24-26, 2022 Link: 21c Museum Hotel - Reunion Room Block
Cathy Stix, stixmom@gmail.com
Class of 1975 46th Reunion - POSTPONED
Due to the rise in Covid-19 and the variant, The reunion event is postponed. CLICK HERE to request a refund or donate your payment.
Reunion Contact: Jill Shuller, jpshuller@gmail.com
Class of 1980 - Postponed reunion gathering to the 45th Reunion.
CLICK HERE TO DONATE TO THE CLASS OF 1980 GIFT. *Select Class of 1980 Gift Donation from the dropdown menu.
Margo Kirstein, margo.kirstein@7hills.org
Class of 1986 – THE REUNION HAS BEEN CANCELED. Please check the class Facebook page for details.
Reunion Contacts
Barry Bates, barry.bates@cbws.com
Gregory Dicks, gregory_dicks@yahoo.com
Class of 1990 - REUNION EVENTS HAVE BEEN CANCELED- DUE TO COVID SPIKE - MORE DETAILS TO FOLLOW!
Reunion Contact: Angela Owens, ayocrab@gmail.com
Class of 2001 - June 3-5, 2022
Class of 2010 - Saturday, November 27, 2021 8:30-11:30 pm
Rhinegeist Brewery, 1910 Elm St, Cincinnati, OH 45202 in the Annex
Reunion Contact: Gabby Glenn, gabbyglenn@gmail.com