To be an organization of Walnut Hills High School Alumni whose purpose is to support and enhance the mission of Walnut Hills High School by receiving and administering funds for said purposes.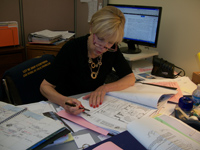 Shortly after our Centennial celebration in 1995, a handful of Walnut Hills' alum sat around a table and created a bold vision. Our vision went through several phases of development before it ultimately translated into the formalizing of the WHHS Alumni Foundation. Our
Foundation Board
consists of a diverse group of 30 graduates from around the country and represent different eras from the 1030's to the 1980's. We currently have over 18,000 alumni whose Walnut Hills experience positively impacts its graduates to the degree that they have a stronger allegiance to Walnut Hills than to their college alma maters.
As their first charge, the Foundation Board completed a comprehensive needs assessment study that determined the overwhelming necessity to upgrade the original 1931 science facilities. After collaboration with all constituencies involved from students, faculty, administrators, parents, colleges and universities, what emerged was the vision of a world-class Arts and Science Center. The blend of art and science became a natural integration for our classical liberal arts curriculum.

Total costs were estimated to be $8 million for the building, $2 million for furniture and equipment, and $2 million for an endowment fund. Fundraising began at the Board level. This was a bold dream of raising private funds to make a major capital addition to an urban public school, and was to our knowledge the very first fundraising of its kind anywhere in the country.

The new building opened in October 1999 — two months earlier than projected and on budget! The state-of-the-art building is alive with enthusiastic students and faculty busy building robots, executing exotic computer designs, producing an astounding variety of creative works of art, and enjoying the interfacing of different learning disciplines.

The capital campaign for the Alumni Arts and Science Center was completed in October 2002 when the $13 million goal was exceeded. Since then our Foundation has inspired hundreds of schools across the nation to start their own foundations dedicated, as we are, to enhancing public schools in their areas and enriching the student experience.
The Foundation today has become a powerful force that impacts Walnut Hills on every level from facilities to strategic planning to quite literally getting students to college. Our
annual fund
continues to support everyday life for students and faculty alike. It fills the gap between what is provided by public funds to what is needed not only to sustain the level of excellence of the program but also see it flourish and grow. Alumni volunteers are also essential to success of our programs. From Junior Achievement to Science Fair and Chalk Drawing judges, college contacts and networking opportunities, alumni are an integral part of the Walnut Hills experience.
In addition, our Foundation and Facilities Committee has worked with Principal John Chambers and staff to identify a number of physical and programmatic needs that for cost reasons were not included in the Cincinnati Public School's tax levy funded improvements. Some of these projects are already in place, as it was more practical to build when the opportunity presented itself, while others are yet to be realized.
The final configuration of the completed project is still to be determined. The vision is being refined and the details examined so that that future generations will benefit from the quality of education that is known to all as the "Walnut Hills experience".