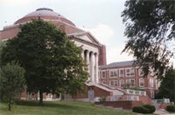 The original Walnut Hills High School was founded as a neighborhood school in 1895 and was located at the corner of Burdett and Ashland Avenues. It consisted of 16 classrooms accommodating grades 9-12 with 20 teachers serving a student population of 684 students. The focus of the school was changed in 1918 to become a college preparatory high school rooted in a classical liberal arts curriculum and expanded to include grades 7-12.
In 1931, on a 14 acre site acquired from the Archdiocese of Cincinnati, a new larger building located on Victory Parkway was opened. The architect, Frederick W. Garber, took his inspiration from Thomas Jefferson's designs at the University of Virginia and Monticello. The majestic façade of the building and the iconic, domed library at the center of the structure reflect these architectural styles. In addition, examples of Cincinnati's famous Rookwood Pottery are to be found throughout the building, including the masks of comedy and tragedy adorning the proscenium arch in the large auditorium. The facility was designed for 1700 students and included 31 classrooms, 3 study halls, choral harmony and band rooms, a general shop, a print shop, a mechanical drawing room, 2 swimming pools (separate for boys and girls),a library, a large and small auditorium , and a kitchen for teaching cooking (with pantry and adjacent living room and dining room).

The main campus including new Alumni Arts and Science Center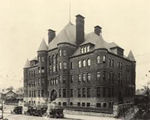 In the 60's various temporary structures were built to accommodate a growing student population. In 1976, a Fine Arts Complex was added and in 1979 a new stadium was completed named after Judge Robert S. Marx. In 1999, our 59,000 square foot Alumni Arts and Science Center opened. It replaced the 1931 science labs, provided the art and science departments with state-of-the art facilities and totally eliminated temporary classrooms from the campus. The $13million project was funded privately by alumni and friends and considered unprecedented in scope.
In 2006, the Marx stadium was renovated to include a 2,000 seat all-weather football and soccer field and 8-lane track. The track was dedicated to William DeHart Hubbard '21, an Olympian who in 1924 won in the Long Jump, becoming the first African American to win an Olympic gold metal in an individual event.
Today the campus is in the midst of a $65 million renovation and building plan which began in 2010 and is scheduled for completion in 2014.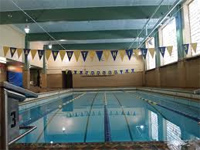 The 1931 main building is being renovated to include infrastructure upgrades to heating, plumbing, and electric as well as technology and security systems. Central air conditioning is also included. The architectural character of the building will be maintained but construction and renovation work will favor eco-friendly methods and materials. A renovated portion of the main building, the north wing, opened to students this past fall.
In addition to the renovation, 68,000 square feet of new space has been added to the campus. This includes new academic classrooms which will allow for the expansion of the Modern World Language Program, an additional 1,200 seat competition varsity gym which opened in December, featuring a new Nut House section devoted to students, as well as a lobby display area and new restrooms and concession stand. The lower floor includes new locker rooms and offices for officials and coaches to accommodate our physical education department, our athletes and visiting teams. A full size natatorium featuring a 25 meter, 6 lane competition pool complete this athletic complex. The Alumni Foundation has committed $1.5 million to Cincinnati Public Schools to pay for the pool and other elements not covered in the original scope of the project.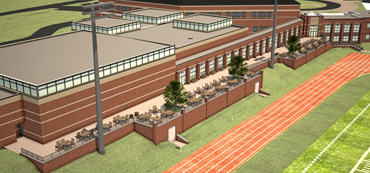 The new Athletic Complex and Music Lyceum
Adjacent to the athletic complex is a new two story Music Lyceum which houses vocal and orchestral rooms, marching band, band, steel drums, a multimedia production room, a piano studio as well as a recital hall that seats 125 with an adjoining lobby area. The building includes rehearsal and practice rooms, dedicated space for music libraries and storage with direct access to the field for the marching band. Rooms are acoustically correct and have recording capabilities.
Renovations to the rest of the main building should be complete by the fall of 2013.