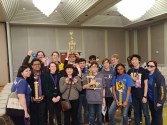 Walnut Hills Classics Team #1 in State!
13 students, 2 alumni, and 3 faculty participated in the Ohio Junior Classical Leage Convention March 8-11 in Columbus. MANY Awards were garnered by our team, including each level of Certamen (Classics Quiz team), creative, grahic and academic contests.
Each year in late winter, Walnut Classics' academic team participates in the State competition.
While we have taken 2nd place several times, this year we hit the Big One at FIRST PLACE Academic and Overall (per capita). Each of our Certamen teams won a trophy for making it to the finals (Upper level First, Intermediate level Third and Novice level Second). We even had a Best in Show for Latin Sight Reading!
Students who enjoy Latin, mythology, ancient history and art are welcome to join: this year, meetings are most Mondays, Tuesdays and Wednesdays after school in Room 2114. It's getting *really* full of trophies in here!