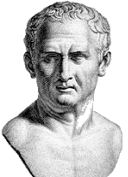 It is the mission of the Classics department to understand the classical roots of our language and our culture. Ancient societies provide us with different perspectives for considering our own society.
Students will be better equipped to discuss social relationships, law, economy, class, the exercise of power, identity, the history of language, rhetorical strategies, and much else.
We find fascinating material in these old sources--not only in what the authors wish to tell us, but when we read between the lines and discover incidental clues about what might really have been happening.
Classics Staff
Alex Baggott-Rowe

513-363-8598

Room: Traveling
Daniel Beaven

513-363-8631

Room: 2105
Jack Berendt

513-363-8539

Room: Traveling
Laura Brogden

Department Chair

513-363-8426

Room: 2115
Matthew Henstridge

513-363-8473

Room: 2103
Krystal Kubichek

513-363-8566

Room: Traveling
Nicholas Lander

513-363-8671

Room: 2111
Tara Ligon

513-363-8518

Room: 2114
Michelle Martinez

513-363-8523

Room: 2110
Barrett Smith

513-363-8631

Room: 2112
Elizabeth Thomas

513-363-8610

Room: 2109
Sean Tulley

513-363-8547

Room: 3305